Manufacturer :
---
Production Autoclaves for the laboratory, pharmaceutical, food industry and animal husbandry
from 640 litres chamber volume
The devices are high-performance and cost-effective to use in the laboratory, pharmaceutical and food industries and in animal husbandry. Through the diverse range of options and variability of the chamber and exterior dimensions, they offer the correct and standardized solution for every field of application. Thus, because of our HP0 approval and our own construction department, we can manufacture and deliver autoclaves with customer-specific dimensions.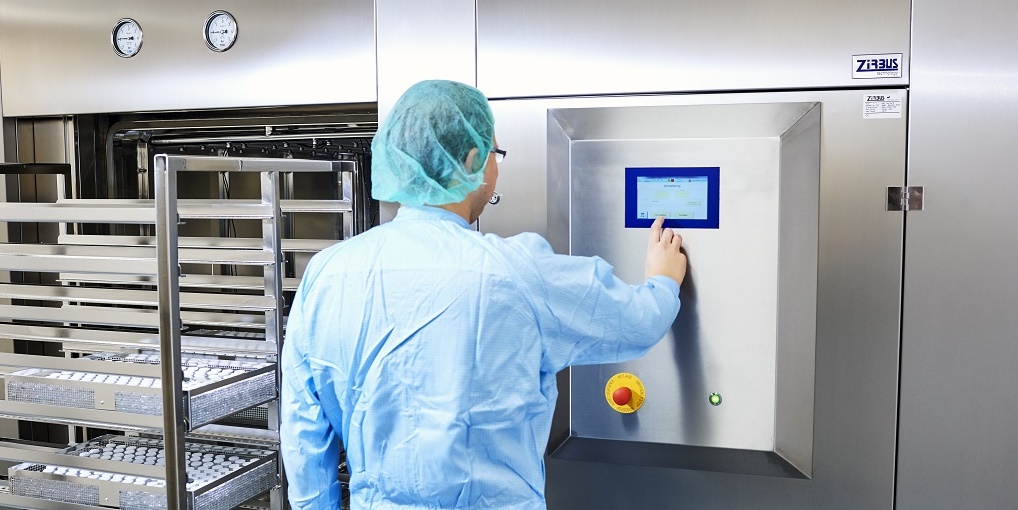 Large autoclaves | 6H series | 640 to 1,234 liters chamber volume
HST 9x6x9
HST 9x6x12
HST 9x6x14
HST 6x9x16
HST 6x9x18
Effective Space
mm
(H) 1000
(W) 660
(D) 970
(H) 1000
(W) 660
(D) 1270
(H) 1000
(W) 660
(D) 1470
(H) 1000
(W) 660
(D) 1670
(H) 1000
(W) 660
(D) 1870
Chamber Volume
Litres
640
838
970
1,100
1,234
Large autoclaves | 8H series | 1,080 to 2,463 liters chamber volume
HST 10x8x12
HST 14x8x12
HST 16x8x13
HST 14x8x20
Effective Space
mm
(H) 1000
(W) 850
(D) 1270
(H) 1400
(W) 850
(D) 1270
(H) 1600
(W) 850
(D) 1370
(H) 1400
(W) 850
(D) 2070
Chamber Volume
Litres
1,080
1,511
1,863
2,463
Large autoclaves | 10H series | 1,580 to 3,087 liters chamber volume
HST 12x10x12
HST 12x10x16
HST 12x10x20
HST 12x10x24
Effective Space
mm
(H) 1250
(W) 1000
(D) 1270
(H) 1250
(W) 1000
(D) 1670
(H) 1250
(W) 1000
(D) 2070
(H) 1250
(W) 1000
(D) 2470
Chamber Volume
Litres
1,580
2,080
2,587
3,087
Further chamber sizes on request. We can offer different dimensions according to the customer's requirements. Up to 10m² available.

The following options are available to adapt the autoclaves exactly to your tasks:
Siemens SPS control S7 series 300
House steam version for connection to a central steam supply with steam management system
Own steam version by means of built-in electric pure steam generator
Version of a pit installation for ground-level loading of the autoclave
Double door version with gas-tight separation for safety laboratories and clean rooms
GMP-compliant design according to DIN 58950 and FDA regulations
Fast water recooling via a large double shell. In conjunction with the support pressure control via a sterile air filter, ensures the shortest possible recooling times for liquid media.
Connection to a house supplied ring cooling system for water saving. The heat exchange takes place via a plate heat exchanger and saves up to 80% water.
Recirculation fan further shortens the cooling time and offers the possibility of sterilisation in a steam-air mixture.
Hot water sprinkler process (HWSP) for fast and gentle sterilization of liquids in closed vessels.
Spray cooling for rapid cooling of liquids in closed vessels.
Exhaust air filter with condensate inactivation for the sterilisation of infectious goods of the risk classes S2 and S3. Filter retention rate: > 99.5% 0.02µm
Vacuum pump set with water saving device for safe evacuation of air from sterile material by means of single-stage or fractional prevacuum. Enables dry removal of the sterile material at the end of the process.
Transport and charge trolley for ergonomic loading and unloading.
Documentation Features
Network-compatible digital charge recording and user management system in connection with Siemens WinCC FDA 21 CFR Part 11 compliant.
6-channel colour line recorder for control-independent batch documentation on 120mm wide plain paper.
10-channel screen recorder for FDA 21 CFR Part 11 compliant digital batch documentation, network-compatible.
USB stick for storing up to 1,000 charges on an USB stick. The data can be read out on a PC for evaluation.
Documentation software "Sterilog" for direct documentation of the sterilization process on a PC. Communication takes place via an Ethernet interface.
Qualification DQ, IQ and OQ according to DIN 589510 and FDS, HDS, SDS for pharmaceutical use

Related Products