Manufacturer :
---
Laboratory Freeze Dryer VaCo-Series
The VaCo series is the entry into freeze drying systems and lyophilisers. Thanks to its modular design, the laboratory freeze dryer is perfectly suited for a wide range of tasks in your laboratory. The units are available with either a -50°C condenser or -80°C condenser and can be offered with the following options:
Acrylic glass chamber – incl. base plate and gasket
Stainless steel chamber – when using organic solvents
Aluminium rack – with heated or unheated shelves
Drying trays – suitable for the shelves
Chamber cover – on request with vacuum connections (NS 29/32)
Dry rack – stainless steel, incl. 3-way valve (NS 29/32)
Ampoule adapter– to extend the vacuum valve, for 16 ampoules
Closing system – For closing vials under vacuum atmosphere
Vacuum control – for setting different vacuum values
Vacuum pump – as oil-sealed rotary vane pump or chemical hybrid vacuum pump
Control – via 4,3″ colour touch display
Laboratory freeze dryer VaCo 2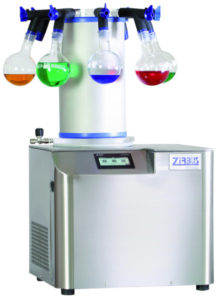 VaCo 2 with stainless steel chamber and connections in cover.
VaCo 2, -50°C
VaCo 2, -80°C
Dimensions
of condenser
Ø 200 x 180 mm
Ø 200 x 180 mm
Volume
5,7 litres
5,7 litres
Temperature
of condenser
-50°C
-80°C
Ice capacity
2 kg / 24h
2 kg / 24h
Max. ice
capacity
3 kg
3 kg
Cooling system
one- stage, Refrigerant according to the latest F-Gas regulation
two-stage, Refrigerant according to the latest F-Gas regulation
Outer
dimensions (wxhxd)
490 x 450 x 470 mm
490 x 450 x 470 mm
Weight of basic unit
45kg
58kg
Electical connection
230 V, 50/60 Hz
230 V, 50/60 Hz
Related Products